Daniel Kobyliansky, Violin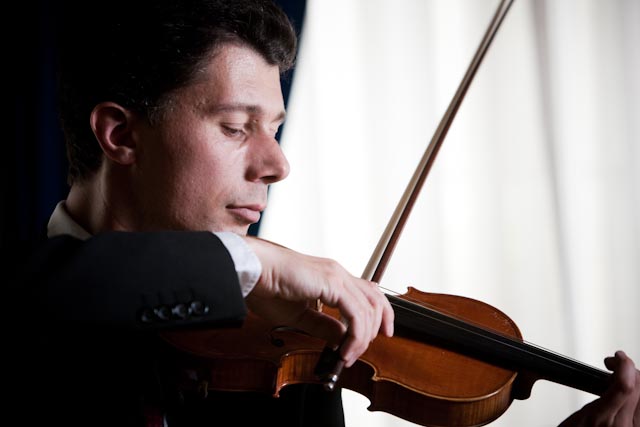 Follow our YouTube Channel!

Berg, Concerto for violin (Esteban Dominguez Gonzalvo, piano).

https://www.youtube.com/watch?v=vyN53ByKXZM&app=desktop

Stravinsky, l'Histoire du Soldat, for violin, clarinet and piano.

https://www.youtube.com/watch?v=irWP_BB5YMg
https://www.youtube.com/watch?v=ykt6AncrQwU
https://www.youtube.com/watch?v=lvtGmw9aJug
https://www.youtube.com/watch?v=sQemMVnplmg

Khatchaturian, Trio for violin, clarinet and piano.

https://www.youtube.com/watch?v=lKLZNAR-QDk
https://www.youtube.com/watch?v=eOLjDel3_wE

Bartok, Contrasts.

https://www.youtube.com/watch?v=zPZmVObmqOg
https://www.youtube.com/watch?v=Yp52TWFDVF0
https://www.youtube.com/watch?v=QkheePjXJXc

Daniel Kobyliansky was born in Moscow in the year 1973. At the age of 7, he began learning the violin with his father and L. Mazur at the Gnessin Conservatory for talented children. At the age of 17 he entered the Tel Aviv Academy of Music, where he studied with Y. Kless and I. Svetlova. He completed his studies with D. Schwarzberg in Vienna in 1999. Daniel Kobyliansky's successes at Israeli music competitions include first prizes in the category violin (1996) and chamber music (1993) in Tel Aviv Music Academy and second prize at the broadcast competition "Young Artist" in 1997. At the international level, his successes include Zagreb in 1997 and the Premio Rodolfo Lipizer International Violin Competition in Italy (second prize and three special prizes) in 1998. Kobyliansky has appeared as a soloist with the Zagreb Philharmonic Orchestra, the Jerusalem Symphony Orchestra and the Biel Symphony Orchestra. In chamber groups and solo recitals he has performed in France, Israel, Italy, Germany, Croatia and Austria. Daniel Kobyliansky has been leader and soloist of the Arpeggione Chamber Orchestra in Austria since 1999. He is actually associate concertmaster of the Biel Symphony Orchestra (Switzerland). He is also teaching at the New Music School Biel (preparation to competions and auditions).
Daniel Kobyliansky wurde im Jahr 1973 in Moskau geboren. Als Siebenjähriger studierte er an der Gnessin Musikschule für begabte Kinder, wo er von L. Mazur und seinem Vater unterrichtet wurde. Mit 17 Jahren trat er in die Musikakademie Tel Aviv ein, wo er bei Y. Kless und I. Svetlova studierte. 1997-99 ergänzte er seine Studien bei D. Schwarzberg in Wien. D. Kobyliansky verzeichnet Erfolge bei nationalen (Israel) und internationalen Musikwettbewerben: er gewann jeweils den ersten Preis in den Kategorien Violine (1996) und Kammermusik (1993) in Tel Aviv, sowie weitere Preise in Israel wie den 2. Preis des Radiowettbewerbs (1997); auf internationale Ebene war er u.a. in Zagreb 1997 und am "Premio Lipizer" Wettbewerb in Italien (2. Preis und 3 spezielle Preise) 1998 erfolgreich. D. Kobyliansky ist als Solist, unter anderem mit den Zagreb Philharmonikern, dem Symphonieorchester Jerusalem und dem Bieler Symphonieorchester tätig. Als Kammermusiker tritt er in Europa sowie in Israel auf. Von 1998 bis 2000 war er Konzertmeister und Solist des Kammerorchesters Arpeggione (Österreich). Heutzutage ist D. Kobyliansky Stellvertretende Konzertmeister im Bieler Symphonieorchester. Er unterrichtet in der Neue Musikschule Biel (Wettbewerb- und Probespielvorbereitung).

Né à Moscou en 1973, Daniel Kobyliansky entre à l'âge de 7 ans à l'Ecole de Musique Gnessin, réservée aux enfants surdoués. Il y reçoit l'enseignement de son père, Arnold Kobyliansky, et de L. Mazur. A 17 ans, il entre à l'Académie de Musique de Tel-Aviv, dans les classes d'Y. Kless et I. Svetlova, où il obtient un Bachelor of Arts. Il complétera sa formation avec D. Schwarzberg, à la Haute Ecole de Musique de Vienne. D. Kobyliansky remporte de nombreux prix, en Israël d'abord, puis lors de concours internationaux: entre autres Premier Prix à Tel-Aviv dans les catégories musique de chambre (1993) puis violon (1996), 2ème Prix du Concours de Radio Israël en 1997. Lauréat du Concours de Zagreb en 1997, il reçoit le 2ème Prix du « Premio Lipizer » (Italie) en 1998. Comme soliste, il joue avec l'orchestre de chambre Arpeggione (Autriche), l'Orchestre Symphonique de Bienne (Suisse), l'Orchestre Philharmonique de Zagreb, l'Orchestre Symphonique de Jérusalem, etc. Ses concerts, tant comme soliste que dans diverses formations de chambre, le conduisent régulièrement dans toute l'Europe, ainsi qu'en Israël. De 1998 à 2000, il était Premier Violon Solo de l'orchestre Arpeggione. Il occupe actuellement la fonction de remplaçant violon solo à l'Orchestre Symphonique de Bienne. Il enseigne également à la Nouvelle Ecole de Musique de Bienne (préparation aux concours et auditions).